THE STATURE OF THE PERFECT MAN
1. THE END-TIME BRIDE MUST BE IN THE STATURE OF CHRIST.
2. THE CREATION IS RELATED TO THE SEVEN VIRTUES.
3. THE FALL FROM THE IMAGE AND LIKENESS OF GOD.
4. THE NEW TESTAMENT AND THE CHURCH AGES FORETOLD.
5. THE VIRTUES IN JESU'S LIFE AND IN THE FIRST CHURCHES.
6. THE SEVEN VIRTUES IN THE SEVEN CHURCH AGES.
7. A TYPE SYMBOLIZING THE SQUEEZE AND THE VIRTUES.
8. THE VIRTUES IN BOTHER BRANHAM'S MINISTRY.

THE END-TIME BRIDE MUST BE IN THE STATURE OF CHRIST
We are over here in the last age. And the first age begin with the Word, which was Christ. And the last age has to end with the Word, which is Christ. And these other things, these shucks and so forth, as I have explained, is just carriers of the Word, to serve its purpose until It comes into the full stature, see, of what the original grain was.
153 THE POWER OF TRANSFORMATION -- PRESCOTT AZ -- 65-1031m
If you are a born again Christian, that little germ that was predestinated to you, it is Word coming on Word, on Word, on Word, on Word, and come into full stature of Christ. That is right. So He can come get His Bride. Now we're just ready for one thing, that's the coming of the Lord.
43-3 INVISIBLE UNION OF THE BRIDE OF CHRIST -- SHREVEPORT -- 65-1125
Wonder, could it be already past? Could the Bride already be called? Is that what we're going through today? She has to be molded and made into the image of Christ, and Christ is the Word. That's the only thing. See? It's in there, in the Word. It's just... See, there cannot be one thing added.
204 THE RAPTURE -- YUMA AZ -- 65-1204
Ephesians 4:13 Till we all come in the unity of the faith, and of the
knowledge of the Son of God, unto a perfect man, unto the measure
of the stature of the fulness of Christ.
God represents His Church as a Bride, and the way He brings each individual to being His son to go in that Bride, He also has brought the Bride through these ages 'til He brings this one complete Church into this...
...But each age God has placed these things into His Church, and patterned it by showing that each individual has these—possesses these qualities. And this "being" when it's completed, is the Church of God that's going in the Rapture! And this "being" when completed, is a servant of God in the Church of God, that's going in the Rapture. Glory!
50-4+5 THE STATURE OF THE PERFECT MAN -- JEFF. IN -- 62-1014m
You remember the pyramid Message? It's the Capstone. What did It do? The Holy Spirit capped off the individual and seal it, when we added to our faith; righteousness, and godliness, and faith, and so forth, and kept adding to it till we got seven things. And the seventh one was love, which is God. That's how He makes the individual, and caps him and seals him with the Holy Spirit. Then, if that be so, He's got seven church ages, that He's had seven mysteries that's been sounded away, and they fought for, to bring back. And now the Headstone comes, to cap off the Church. Does the Thunders mean that, my brethren? Sirs, is that where we're at?
373 IS THIS THE SIGN OF THE END, SIR? -- JEFF. IN -- 62-1230e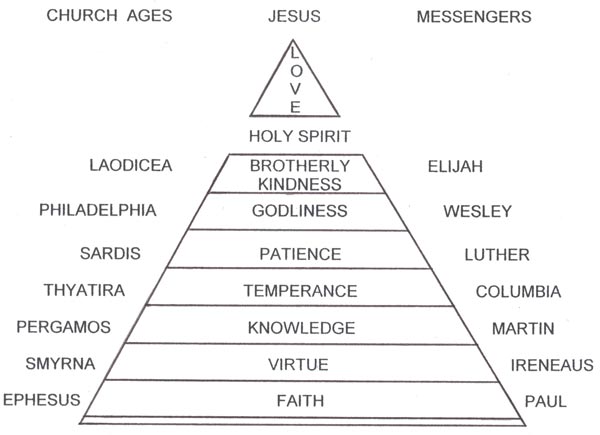 2 Peter 1:5 And beside this, giving all diligence, add to your faith virtue;
and to virtue knowledge;
6 And to knowledge temperance; and to temperance patience; and to
patience godliness;
7 And to godliness brotherly kindness; and to brotherly kindness charity.
As Noah, Moses, David, reflected the coming of this perfect Bridegroom; so has Luther, Wesley, and Pentecost, reflected the coming of the perfect Bride.
301 THE HARVEST TIME -- PHOENIX AZ -- 64-1212
At the finishing of the seventh Seal, the mystery of God should be finished, to know Who God is, what He is, how He lives, His nature, His Being. You're supposed to be all the way up here by that time, see, bring us into the full stature of sons and daughters of God, a Church that's washed in the Blood of Christ, that's bought without money, is paid for by the Blood of Jesus Christ.
35 A GUIDE -- JEFF. IN -- 62-1014e
There has to be coils, and plugs, and points, and valves, and everything else that makes the automobile. And when you talk about the baptism of the Holy Spirit, there's a lot goes with that. See? There's a lot goes with that. And here's what I think that God is proving the Holy Spirit is here. See?
Now, Peter said first, faith. Now watch it real close now. We're going to teach this for a few minutes. Faith, now, is your first. And add to your faith, virtue; to your virtue, knowledge; to your knowledge, temperance; to your temperance, patience...
...Now that—then from this, and then bringing this into the seven church ages, God is building in seven church ages a Bride for Christ. Through the Philadelphian, Thyatirean, and Pergamos, and Smyrnaean, Ephesus, a church age that Jesus said, "If the—if the Bridegroom come in the first watch or the seventh watch, all these virgins awakened..."
...It was the seventh age that when He came and woke up those sleeping virgins. That brings them all the way back down to here (see?), for in this, through the years, ages, He has built a Bride, borned a Bride, begotten a Bride on earth for Christ. And the same way that He begets this Bride, He has begot individuals...
...Now, these things here absolutely must be in the Christian before the Holy Ghost ever seals them, before this comes down on top and makes a complete unit.
15-3 TO 16-2 BLASPHEMOUS NAMES -- JEFF. IN -- 62-1104m
And the great Church that He established on the day of Pentecost by the sending of the Holy Ghost had to suffer martyrdom and go into the dirt, into the earth in the dark age to bring forth again in the age of Luther, and come on out to the full stature of the Bride of Jesus Christ for this last day. See?
36 THINGS THAT ARE TO BE -- RIALTO CA -- 65-1206
THE CREATION IS RELATED TO THE SEVEN VIRTUES
Genesis 1:3 And God said, Let there be light: and there was light.
4 And God saw the light, that it was good: and God divided the
light from the darkness.
5 And God called the light Day, and the darkness he called Night.
And the evening and the morning were the first day.
Ephesians 5:8 For ye were sometimes darkness, but now are ye
light in the Lord: walk as children of light.

1 Thessalonians 5:5 Ye are all the children of light, and the children
of the day: we are not of the night, nor of darkness.
Ephesians 2:8 For by grace are ye saved through faith; and that
not of yourselves: it is the gift of God:
Well, if we're really grounded in Christ, see, with the Holy Ghost in us, and rooted and grounded in the faith of God, it'll certainly pack the Light of the Gospel to the world.
E-27 THE INNER MAN -- CHICAGO IL -- 53-1212
Now, it's the Holy Spirit in the last days to shine forth the Evening Light, restoring back the faith that's been trampled down through the denominations...
44-3 THREE KINDS OF BELIEVERS -- JEFF. IN -- 63-1124e
Genesis 1:6 And God said, Let there be a firmament in the midst
of the waters, and let it divide the waters from the waters.
7 And God made the firmament, and divided the waters which
were under the firmament from the waters which were above the
firmament: and it was so.
8 And God called the firmament Heaven. And the evening and
morning were the second day.
Psalm 18:16 He sent from above, he took me, he drew me out of many waters.
17 He delivered me from my strong enemy, and from them which hated me...

Psalm 144:7 Send thine hand from above; rid me, and deliver me out
of great waters, from the hand of strange children;
...as we bow our heads towards the sand where we come from; then our hearts look towards Heaven, where we are going. From sand to stars, being Abraham's Seed! Dead in Christ, we are Abraham's Seed, and heirs with Him according to the promise.
49 THE HARVEST TIME -- PHOENIX AZ -- 64-1212
2 Corinthians 6:14 Be ye not unequally yoked together with unbelievers:
for what fellowship hath righteousness with unrighteousness? and what
communion hath light with darkness?
15 And what concord hath Christ with Belial? or what part hath he that
believeth with an infidel?
17 Wherefore come out from among them, and be ye separate, saith the
Lord, and touch not the unclean thing; and I will receive you,
18 And will be a Father unto you, and ye shall be my sons and daughters,
saith the Lord Almighty.
Genesis 1:9 And God said, Let the waters under the heaven be gathered
together unto one place, and let the dry land appear: and it was so.
10 And God called the dry land Earth; and the gathering together of the
waters called he Seas: and God saw that it was good.
Matthew 13:23 But he that received seed into the good ground is he
that heareth the word, and understandeth it; which also beareth fruit,
and bringeth forth, some an hundredfold, some sixty, some thirty.

Matthew 16:17 And Jesus answered and said unto him, Blessed art
thou, Simon Bar-jona: for flesh and blood hath not revealed it unto
thee, but my Father which is in heaven.
18 And I say also unto thee, That thou art Peter, and upon this rock I
will build my church; and the gates of hell shall not prevail against it.
Genesis 1:11 And God said, Let the earth bring forth grass, the herb
yielding seed, and the fruit tree yielding fruit after his kind, whose
seed is in itself, upon the earth: and it was so.
12 And the earth brought forth grass, and herb yielding seed after
his kind, and the tree yielding fruit, whose seed was in itself, after
his kind: and God saw that it was good.
For the sun is no sooner risen with a burning heat, but it withereth
the grass, and the flower thereof falleth, and the grace of the fashion
of it perisheth: so also shall the rich man fade away in his ways.
Psalm 1:3 And he shall be like a tree planted by the rivers of water,
that bringeth forth his fruit in his season; his leaf also shall not wither;
and whatsoever he does shall prosper.
I am the vine, ye are the branches: He that abideth in me, and I in him,
the same bringeth forth much fruit: for without me ye can do nothing.
Genesis 1:14 And God said, Let there be lights in the firmament
of the heaven to divide the day from the night; and let them be for
signs, and for seasons, and for days, and years:
15 And let them be for lights in the firmament of the heaven to
give light upon the earth: and it was so.
16 And God made two great lights; the greater light to rule the day,
and the lesser light to rule the night: he made the stars also.
Genesis 1:20 And God said, Let the waters bring forth abundantly
the moving creature that hath life, and fowl that may fly above the
earth in the open firmament of heaven.
21 And God created great whales, and every living creature that moveth,
which the waters brought forth abundantly, after their kind, and every
winged fowl after his kind: and God saw that it was good.
Justification, the horse and buggy; sanctification... automobile began to move along. Then Baptism of the Holy Ghost, it took off the ground. Got her feet off, got up in the air, flying around in the Heavenlies with Heavenly gift—speaking in tongues, Divine healing.
E-24 THE COUNTDOWN -- SHREVEPORT LA -- 62-1125e
Remember, God is an eagle. He called Himself an eagle. And He called Jacob an eagle. And we are His eaglets. Amen. He called His prophets "eagles."
210 WHY I AM AGAINST ORGANIZED RELIGION -- JEFF. IN -- 62-1111e
The church needs a Holy Ghost revival. It needs a house cleaning. These are eagles; don't feed them on chicken food. They're eagles. Get them out there where they have to fly or die. That's all. And God will watch over His heritage.
25-6 AS THE EAGLE STIRRETH -- TULSA OK -- 60-0402
Genesis 1:24 And God said, Let the earth bring forth the living
creature after his kind, cattle, and creeping thing, and beast of the
earth after his kind: and it was so.
25 And God made the beast of the earth after his kind, and cattle
after their kind, and every thing that creepeth upon the earth after
his kind: and God saw that it was good.
Genesis 1:27 So God created man in his own image, in the image
of God created he him; male and female created he them.

Psalm 102:18 This shall be written for the generation to come:
and the people which shall be created shall praise the LORD.
"All the Father has given Me will come, not one will be lost. I'll raise it up at the last day. Not one hair of the head will even perish." That is the beginning of the creation of God. This is the continuation of the creation of God. Then the whole earth has... a baptism.
146 PROVING HIS WORD -- JEFF. IN -- 64-0816
THE FALL FROM THE IMAGE AND LIKENESS OF GOD
Genesis 3:1b ...And he said unto the woman, Yea, hath God said,
Ye shall not eat of every tree of the garden?
Now, the first thing, I believe, that all Doctrine must come from God's Eternal blessed Word, for faith cannot rest upon the shifting sands of theology of men. It must be based upon the unmovable Rock of God's Word.
13 THE MIGHTY CONQUEROR -- JEFF. IN -- 56-0401
4 And the serpent said unto the woman, Ye shall not surely die:
5 For God doth know...
...that in the day ye eat thereof,
... then your eyes shall be opened,
...and ye shall be as gods,
...knowing good and evil.
THE NEW TESTAMENT AND THE SEVEN CHURCH AGES FORETOLD
Genesis 22:16 And said, By myself have I sworn, saith the LORD, for because
thou hast done this thing, and hast not withheld thy son, thine only son:
17 That in blessing I will bless thee, and in multiplying I will multiply
thy seed as the stars of the heaven, and as the sand which is upon the
sea shore; and thy seed shall possess the gate of his enemies;
18 And in thy seed shall all the nations of the earth be blessed;
because thou hast obeyed my voice.
19 So Abraham returned unto his young men, and they rose up and
went together to Beersheba; and Abraham dwelt at Beersheba.
20 And it came to pass after these things, that it was told Abraham,
saying, Behold, Milcah, she has also born children unto thy brother Nahor;
21 Huz his firstborn,
...and Buz his brother,
...and Kemuel the father of Aram,
22 And Chesed,
...and Hazo,
...and Pildash,
...and Jidlaph,
...and Bethuel,
23 And Bethuel begat Rebekah: these eight Milcah did bear to Nahor,
Abraham's brother.
My work is in the realm of Spirits. That's where I live, a big part of my life, is in another dimension, that the world knows nothing about. And I speak that in the Name of the Lord.
E-30 GOD TESTIFYING OF HIS GIFTS -- HAMMOND IN -- 52-0713e
Them revelations in the presence of that ball of Fire hanging there in the room! O brother! Although I've seen It since a child, every time It comes near me, It alarms me. He almost puts me in an unconscious condition. You never get used to it. You can't. It's too sacred.
349-2 THE FIFTH SEAL -- JEFF. IN -- 63-0322
Notice, Eliezer found the woman, he knowed that was her. And notice, he had to deal with two people, her mother and the brother. The father, rest of them, had nothing to say. Mother and brother! So has the Messenger, the Holy Ghost of God, in this last days, picking out the Bride. He's had to deal with the church that calls itself the "mother," the Catholic; and the "brother," the preacher. That's exactly. He had to deal with those two. They was the one that kicked up a fuss about it.
134 A SUPER SIGN -- GRASS VALLEY CA -- JJ -- 62-0708
THE VIRTUES IN JESUS'S LIFE AND IN THE FIRST CHURCHES
Luke 2:51 And he went down with them, and came to Nazareth, and was
subject unto them: but his mother kept all these sayings in her heart.
52 And Jesus increased in wisdom and stature, and in favour with God and man.
1:8 First, I thank my God through Jesus Christ for you all,
that your faith is spoken of throughout the whole world.

14:23 And he that doubteth is damned if he eat, because he
eateth not of faith: for whatsoever is not of faith is sin.
2 Corinthians 6:17 Wherefore come out from among them, and be ye separate,
saith the Lord, and touch not the unclean thing; and I will receive you,
18 And will be a Father unto you, and ye shall be my sons and daughters,
saith the Lord Almighty.
Galatians 4:9 But now, after that ye have known God, or rather
are known of God, how turn ye again to the weak and beggarly
elements, whereunto ye desire again to be in bondage?
Ephesians 5:8 For ye were sometimes darkness, but now are ye
light in the Lord: walk as children of light:
9 (For the fruit of the Spirit is in all goodness and righteousness and truth;)

Philippians 3:11 If by any means I might attain unto the resurrection
of the dead.
12 Not as though I had already attained, either were already perfect:
but I follow after, if that I may apprehend that for which also I am
apprehended of Christ Jesus.
13 Brethren, I count not myself to have apprehended: but this one
thing I do, forgetting those things which are behind, and reaching
forth unto those things which are before,
14 I press towards the mark for the prize of the high calling of God
in Christ Jesus.
9 For this cause we also, since the day we heard it, do not cease
to pray for you, and to desire that ye might be filled with the knowledge
of his will in all wisdom and spiritual understanding;
10 That ye might walk worthy of the Lord unto all pleasing, being
fruitful in every good work, and increasing in the knowledge of God;
11 Strengthened with all might, according to his glorious power,
unto all patience and longsuffering with joyfulness;
1 Thessalonians 4:9 But as touching brotherly love ye need not that I
write unto you: for ye yourselves are taught of God to love one another.
THE SEVEN VIRTUES AND THE SEVEN CHURCH AGES
As Jesus went away He told His disciples to tarry until Pentecost at which time the very same Spirit that was upon Him would come back and fall upon them and fill them. Then that 'called out' body (the church) would be in His stead upon the earth, taking His place.
250-2 THE CHURCH AGE BOOK
I can imagine them apostles never acted like us. They went around, probably a man of few words... Just one little nod from God. That did it. This is it. Why? How could they know it was a nod from God? They had all these virtues in here, all these qualifications...
61-2 STATURE OF A PERFECT MAN -- JEFF. IN -- 62-1014m
Revelation 2:2 I know thy works, and thy labour, and thy patience, and
how thou canst not bear them which are evil: and thou hast tried them
which say they are apostles, and are not, and hast found them liars:
And see what those false apostles were doing. They came with their own word. Those Ephesians knew that Word as Paul had taught it. They were full of the Holy Ghost by the laying on of Paul's hands. They looked those false apostles in the eye and said, "You are not saying what Paul said. You are, therefore, false."
83-1 THE CHURCH AGE BOOK
Revelation 2:3 And hast born, and hast patience, and for my
name's sake hast laboured, and hast not fainted.
4 Nevertheless I have somewhat against thee, because thou
hast left thy first love.
They had forgotten something. He told them to turn back in their minds to their point of origin. The origin of the first age was Pentecost. They had fallen from it. They had forgotten the glory and wonder of it. It was time to go back in mind and then in reality. Back when they could say, "For me to live is Christ." Back to purity when Ananias and Sapphira were dealt with. Back to the Gate Beautiful.
90-2 THE CHURCH AGE BOOK
Revelation 2:9 I know thy works, and tribulation, and poverty,
(but thou art rich) and I know the blasphemy of them which say
they are Jews, and are not, but are the synagogue of Satan.
Revelation 2:13 I know thy works, and where thou dwellest, even
where Satan's seat is: and thou holdest fast my name, and hast not
denied my faith, even in those days wherein Antipas was my faithful
martyr, who was slain among you, where Satan dwelleth.
Revelation 2:19 I know thy works, and charity, and service, and faith,
and thy patience, and thy works; and the last to be more than the first.
Revelation 3:2 Be watchful, and strengthen the things which remain,
that are ready to die: for I have not found thy works perfect before God.
Revelation 3:8 I know thy works: behold, I have set before thee
an open door, and no man can shut it: for thou hast a little strength,
and hast kept my word, and hast not denied my name.
Revelation 3:15 I know thy works, that thou art neither
cold nor hot: I would thou wert cold or hot.
You wait till the anointing of the Church really strikes home. They got faith, the little remnant. After the doors of the Gentiles is closed, oh, God will anoint a Church then.
203 QUESTIONS AND ANSWERS -- JEFF. IN -- 54-0103e
There'll be a national showdown. There'll be a power that they never seen before. Trouble of it is, this time it's going to be too late for them then. The doors will be closed.
192 TRUE SIGN THAT'S OVERLOOKED -- JEFF. IN -- 61-1112
Even down, as far as I know, to the very last one that the Church is going to receive before the fire falls from Heaven. The same Pillar of Fire that was seen back there...
195 INFLUENCE -- NEW YORK NY -- 63-1114
Jas. 1:4, "But let patience have her perfect work, that ye may be perfect and entire lacking nothing." God's will for us is Perfection. And that perfection is patience—waiting on God and waiting for God. This is the process of character development.
224-1 THE CHURCH AGE BOOK
...the Bride Church will mature, and her ripeness shall be an identification with her Lord by means of the Word, and her Head Who will come to her is the Mystery of GODLINESS, Which indeed is Christ. And as the false church with all cunning and diabolical power made up of political force, physical force and demons of darkness come against this true vine, the true vine with the fullness of the Spirit and the Word will do the very acts of power that Jesus did.
363-1 THE CHURCH AGE BOOK
You know, the hour will soon arise when—when right among us will be... the Holy Spirit will speak out like It did in Ananias and Sapphira. Remember, see, that hour is arriving. See?... Now, you just remember that, see, that God is going to dwell among His people.
60 COMMUNION -- TUCSON AZ -- 65-1212
If somebody had done something wrong, the Holy Spirit rise right up and reveal it. They'd have to clean up. That's gifts of the Spirit in the church, O God, send us a church like that...
240 PERSEVERANCE -- JEFF. IN -- 62-0218
But I believe my brethren, that there is coming an hour that when a real rank persecution will run us together, then we will be one, the church will come together.
E-28 THE GREAT COMMISION -- CHATTANOOGA TN -- 58-0301b
I was just inspired to speak them words and say, that, some glorious day that all the gifts that's in the church will just be set aside, on the mantle, as it was. And the Holy Spirit, Himself, will just take the Church in such a control, of Divine love, until the sick will be healed, the blind will see, the lame will walk, without being hands laid on them. It'll just be one great unity.
13 THEN JESUS CAME -- JEFF. IN -- 57-0407e
It is a fearful thing. Not that you fear that you're lost, but you're really before angelic Being and the Holy Ghost Himself standing there. Now, that will be part of the Bride; that's what it will go to make it up—all those who sleep.
468-5 QUESTIONS AND ANSWERS ON THE SEALS -- JEFF. IN -- 63-0324m
A TYPE SIMBOLIZING THE SQUEEZE AND THE VIRTUES
Just like the Jew will try making this covenant with Rome, and their money proposition. Notice it. Then Esau didn't need his money; neither does Rome—got the wealth of the world in their hands, see?
428-5 THE SIXTH SEAL -- JEFF. IN -- 63-0323
You see, there was the church natural—the church natural, which was Lot and his group. They had a modern Billy Graham go down there, and so forth, and an Oral Roberts and them, calling them out. They did a miracle, insomuch, to smite blind.
E-199 AN ABSOLUTE -- PHOENIX AZ -- 63-0127
Just like it was at Sodom. Now, look at the position of the world today: Sodomites. Look at that Billy Graham and Oral Roberts, them two witnesses, down there witnessing to the denominational churches. One to the Methodist, Baptist, and Presbyterian; the other to the Pentecostals. This one, that one, and the other one.
292 WORKS IS FAITH EXPRESSED -- SHREVEPORT LA -- 65-1126
They'll try to quit praying for the sick and put a ban on it. Just remember that when persecution rises, the church comes to it's very height then. It's always the best. Yes sir, and God's working it all together.
22-6 VISIONS AND PROPHESY -- CHICAGO IL -- 56-0408a
And you'll either have to belong to some of those denominations or be ousted. And that's the time where we have to show our colors and be sure that we know, not a guess work, but know THUS SAITH THE LORD where you're standing.
57 THE PATMOS VISION -- JEFF. IN -- 60-1204e
14 Then upon Jahaziel the son of Zechariah, the son of Benaiah, the
son of Jeiel, the son of Mattaniah, a Levite of the sons of Asaph, came
the spirit of the LORD in the midst of the congregation;
15 And he said, Harken ye, all Judah, and ye inhabitants of Jerusalem,
and thou king Jehoshaphat, Thus saith the LORD unto you, Be not
afraid nor dismayed by reason of this great multitude; for the battle
is not yours, but God's.
THE VIRTUES IN BROTHER BRANHAM'S MINISTRY
...something's holding me to America. All the others seems to be the same way, and I believe that America is going to get her last call this year. That's right. I'd be dareson. Look here, at the tapes down here. They might be played 20 years from today. You have to watch what you're talking about; watch what you're saying, but I believe that. Now, the Lord hasn't told me that, but I believe that, that America is either going to receive Christ or is going to turn Him down flatly this year, and I predict that they will turn Him down.
22-5 VISIONS AND PROPHESY -- CHICAGO IL -- 56-0408a
I think there's nothing better to me than just the Word. Faith cometh by hearing, and hearing the Word of God.
1 HEBREWS, CHAPTER ONE -- JEFF. IN -- 57-0821
Now, the only way that a church can be built, the only way that a man can have faith, is not by his denomination, not by his affiliation, but his faith rests not upon the theology of some man's ideas ('cause it's more or less, altogether, man), but the only way faith can find it's solemn resting place, is upon the immovable and unchangeable Word of God. "Faith cometh by hearing, hearing the Word." That's how it takes. And—and when Faith is heard and accepted, it's forever settled. Nothing no more can ever move it...
522 HEBREWS CHAPTER SIX... PART 3 -- JEFF. IN -- 57-0915m
It's your faith. And your faith, confessed by your lips, make manifest to the people that can hear, but you life is open before all... it's got to be IN you. That's the real "kernal" of the whole story. Your personal faith in the resurrected Christ, as your Saviour...
558 HEBREWS CHAPTER SIX... PART 3
They try to make it so complicated, these things and them things, when it boils right down to one thing: your personal faith in God. That's it. That tells it. "For by faith (not by feeling)... by faith (not by emotion)... by faith (not by sensation)... but by faith you are saved; and that by..." (because you sought the Lord, because you was a good person) "... because God (by grace) foreknew you and ordained you to Eternal Life."
198 HEBREWS CHAPTER SEVEN... PART 1 -- 57-0915e
We want to take tonight, and tomorrow morning, and tomorrow night, just on what we believe here at the Tabernacle, to—to rehearse it over again. We have some awful odd beliefs, very strange, but somehow or another we find them in this Bible.
So now if I just make this real rude on some of these places, and to you visitors tonight that's sitting on, I'm not—I'm not trying to throw you off, I'm just trying to drive home to this church what we believe. All understands that now real good, say "amen." [Congregation says "Amen"—Ed.] All right, that's—that's okay. And I'll get this off my hands... They're recording it, and so forth, that later on if they wanted to find out then what we really stand for, and what the grounds that we stand on, these recordings will tell it.
4 + 6 WHY WE ARE NOT A DENOMINATION -- JEFF. IN -- 58-0927

And do you realize, my brother, every time you do that which is right, that'll be visited on your children?
And sister, brother, how can you run out here, and people live and run around with man's wives, and wives breaking up homes, and—and living the way you do, what do you expect another generation to be? Here's what it is, it's become now nothing but just a bunch of illegitimate, messed-up-born bunch of corruption. And there's one thing left for it, and that's the atomic day that we're living in. That's exactly right. We're at the end time.
79 + 83 WHY WE ARE NOT A DENOMINATION
I'll stay by His Bible, sink or drown, popular or unpopular. Whether anybody loves me, or not, I'll please Him. I want to do that which pleases Him.
159 HOLY SPIRIT EXPLAINED -- JEFF. IN -- 58-0928m
...and the seed of the righteous is about run out. Talk to people about these things; talk to people about going back to the Bible way; talk to the people about miracles; talk to the people about that; their church doesn't believe it; so they're bastard children to God. The Bible said if we cannot bear persecution, trials, and mockery, and be called "holy rollers" and so forth, if you can't stand it, you are bastard children and not the children of God.
32-5 THE SERPENT'S SEED -- JEFF. IN -- 58-0928e
Anyone who listen to those tapes will certainly know what virtue is all about. In December 1959, the Prophet preached the Holy Ghost series. We understand that the baptism of the Holy Ghost is the Holy Spirit Who comes into our heart as a Teacher to give us KNOWLEDGE by revelations.
This meeting is to be a little different meeting than what we usually have here. Mostly every time when we come together here, it's... a meeting for the healing of the sick and for the—a physical need. The emphasis is put upon that. But tonight we have started this revival for the healing of the soul, the—the spirit of the man...
You know, every church, if you don't have a doctrine, you're not a church. You've got to have something that you stand for, some principles that you're holding up...
We must come here for the sole purpose of getting our souls ready for the coming of the Lord, and for no other purpose... We're here to make ready the coming of the Lord...
Listen, brethren. Listen to this! "All tables are full of vomit; there is no clean place. Who shall He teach knowledge? Whom shall He make known—understand doctrine? Them that are weaned from the milk and drawn from the breast." Not little babies...
1 + 8 + 9 + 87 WHAT IS THE HOLY GHOST -- JEFF. IN -- 59-1216
And remember then, it is absolutely, now, to you people—It's absolutely essential, and necessary, and compelling, and compulsory that you receive the Holy Ghost now, for if you don't, you can't come in the resurrection.
150 WHAT WAS THE HOLY GHOST GIVEN FOR? -- JEFF. IN -- 59-1217
I wouldn't do nothing to cause controversy. But if we don't get the Truth, when we going to get started? We've got to have something to take place here to straighten us out. We got to get rapturing grace here now. Truth has to come forth.
68 QUESTIONS AND ANSWERS ON THE HOLY GHOST -- JEFF.IN -- 59-1219
Then did you notice Moses... He did not give them their inheritance; he led them up to the Land, but Joshua divided the land to the people. Is that right? And Christ brought the church up to the place to where their possession was made to them, was given to them, just the Jordan to cross, but the Holy Spirit is the One Who sets the church in order.
19 ADOPTION... PART 2 -- JEFF. IN -- 60-0518
You are first born into the the Kingdom by the Holy Ghost. How many know that? All right. The next, you are predestinated unto the what? Adoption. What is that? You are predestinated unto the placing.
195 ADOPTION... PART 2
Try to do something good and just keep being good; hold no malice, no grudges, don't let any bitterness. No matter how bad the person is and how bad they talk about you, don't you never think evil in your heart against them; 'cause right there the Devil will set right in, work up something right there. Just keep it all covered up with godly love, confession...
21 THE PERGAMOS CHURCH AGE -- JEFF. IN -- 60-1207
Give us sweetness of our Spirits, and take all bitterness and indifference away from us, and may we be so melted with the Holy Spirit. Let the Angel of God rule tonight.
9 THE THYATIRA CHURCH AGE -- JEFF. IN -- 60-1208
...every Word will be fulfilled. I'm under expectations just now, myself, of seeing a shaking Power come, that will shake the nations when it comes.
75 THE COMFORTER -- JEFF. IN -- 61-1001e
Just let Power from on High come, it'll take care of itself when It comes. "You wait until you're endued with Power." O God, why can't the people see that? It's not a joining of church. It's waiting for Power! "Wait until you are endued with Power from on High, for I'll send Him. He's a promise of God, and I'll send Him. I'm going to bear record!"
161 THE TESTIMONY OF A TRUE WITNESS -- JEFF. IN -- 61-1105
Fill us with Power and energy, until our souls are aflame, that our strength will be Him. Our testimony will be God. Our words will be His. Devils will tremble. The world will shake and rock under the impact of It, Lord. If You can only find people who are willing to wait upon the Lord!
250 THE TESTIMONY OF A TRUE WITNESS
But what did He say? He didn't say, "When you get up there, you'll get It." He didn't say, "Wait five days, or nine days." He said, "Until!" That's it. "They that wait upon the Lord, shall renew their strength." See?
268 IF GOD BE WITH US... -- JEFF. IN -- 61-1231e
I'm waiting. I've been waiting for a year. I may wait for two years; I may wait for three years, I don't know. I don't know the next move. I'm waiting for it. But, I think according to the Scripture, the Word's been sowed. The next thing is the coming forth of the Spirit.
65-3 THE SPOKEN WORD ID THE ORIGINAL SEED 2 -- JEFF. IN -- 62-0318
And as I drew near the river I looked back and seen which a way I had come, and I was two thirds of the way there, to the Jordan. And I looked across Jordan, and I said, "Oh, praise God, just on the other side is where all the promises lay!
57 PARADOX -- JEFF. IN -- 61-1224